On Friday, June 20th.
First time in my life I've regretted not owning a cell phone smarter than I am, or I could have shared it all as it happened.
We got home at 2:15 a.m. Saturday, and I slept until 10 a.m. the next morning.
Our cats did not starve, although they obviously thought they were in imminent danger of the probability. When I finally stumbled out of the bedroom, I was greeting with a nasty feline admonition. Somebody had neglected to cover up.
There is no such thing as a dumb animal. Six burned matches and a shot of air freshener into the air conditioner intake later, they got their breakfast.
Three days earlier, David told me to plan nothing, whatever, for my birthday. Checking my calendar on Thursday, I asked if I would be able to attend my 10 a.m. to noon poetry group meeting on Friday. He not only said no, he told me that I was to dress layered, as it might get cold.
We had to leave the house at 8 a.m. on Friday. This was suspicious. Since he began recording books, David's day has started at 1:30 p.m., ending about fourteen hours later. It takes a miracle of nature, or a call for immediate acting work, or a 10 a.m. church service (after which he comes home to nap), to shoehorn him from his mattress a minute earlier.
I am now assured that my birth was a miracle of nature.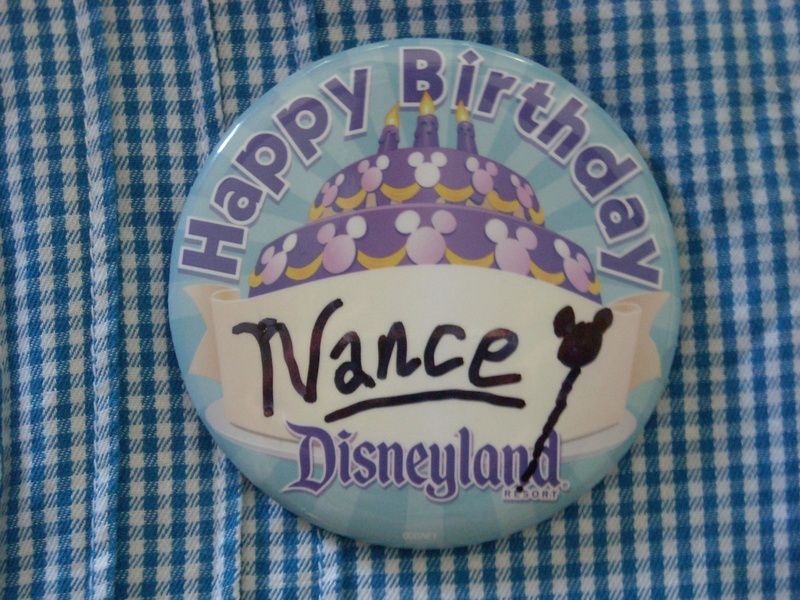 We have not been to Disneyland for at least four years. For anyone else, this is hardly a traumatizing truth.
Family. We're all doomed to being rattled like dice in Parcheesi cups by the effects of growing up in our families.
My family grew up at Disneyland. Johnny and Grammy were there on opening day, sweltering and sticking to the still-drying asphalt with the rest of the giddy guests as the ribbon was cut, and a mob of very lucky kids, my little brother one of the twenty-four original Mouseketeers among them, dashed madly across the bridge to swarm Cinderella's Castle, for all the world like a seething crowd of fire ants attacking Charlton Heston on the banks of the Amazon. (There's an Official Commendation for the person who first recognizes that reference.)
Except for a brief year and a half when living in Nashville, and the past four-ish years, I have spent at least one day a year at Disneyland. In the past ten years, as cooking became a real challenge, we even did Thanksgiving dinner there - until everybody else discovered it was a great idea, and it got so crowded we decided that a healthy budget was a good reason to retreat.
So long without Disneyland was warping me.
Disney has been an ongoing factor in my life. Brother Johnny got his first real break, there. Brother Bobby appeared as a guest on the Mouse show, fencing with Johnny. I did my first acting job as an adult, no-guardian-on-the-set, there. Pat Hogan, most of my kids' father, worked there, gained renown as "Red Stick," in Davy Crockett. Shawna and Mike's company, HMS Productions, made the guitar that's in Mickey's House in Toontown and continue to work with Disney.
David was chained to a wall in the Pirate's Cove cave on Tom Sawyer's island a couple of years ago. He still is. We have blurry photos and videos to prove it, if you don't recognize the voice. Something to share.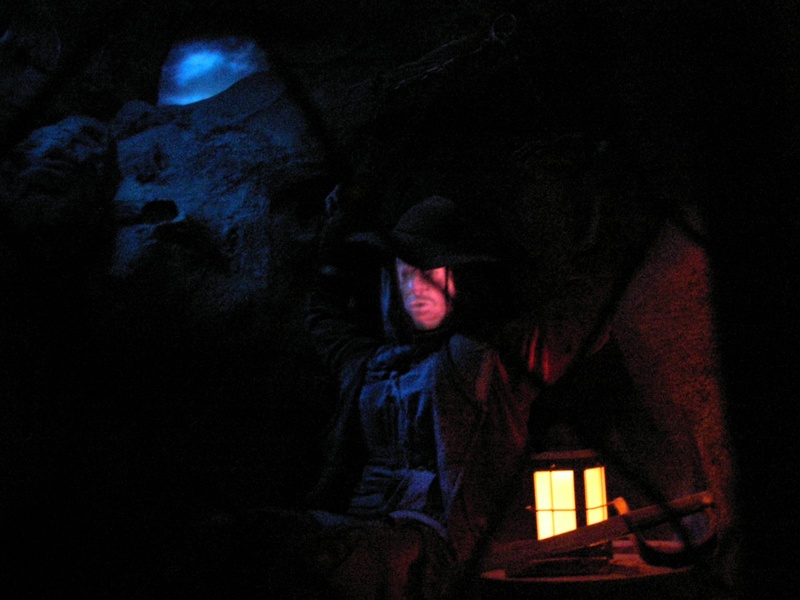 Traffic was challenging, as it always is - except at 2 a.m. (maybe) - on the freeways in Los Angeles. We arrived at about 10:30. As I waited for David to buy the tickets, the sound system began an instrumental rendition of, "Davy Crockett." I mumbled along, with the first verse. And kept whisper-singing the first verse. It's the only one I remember.
Sometime around daughter Kathie's eighth grade sojourn, I reinstated a Disneyland family tradition started by my mother when, one day, she found it too exhausting to walk/run the entire park following her excited progeny. Escorting a gaggle of giggling teens, I decided to exercise that discipline. I rented a wheelchair. Plenty of people to rotate the pushing. It was bliss.
Until we arrived in Adventureland and the Jungle Boat Cruise. Pushing up the foot rests, I stood.
Half a dozen Catholic schoolgirls began bowing and screeching, "She can walk! It's a miracle!"
They lived. Which was the greater miracle.
I have to admit that what started out as a brilliant convenience – especially after electric carts were brought in – has now become a necessity. The inconveniences of the onrushing calendar have caught up with me.
This is how I now travel the park.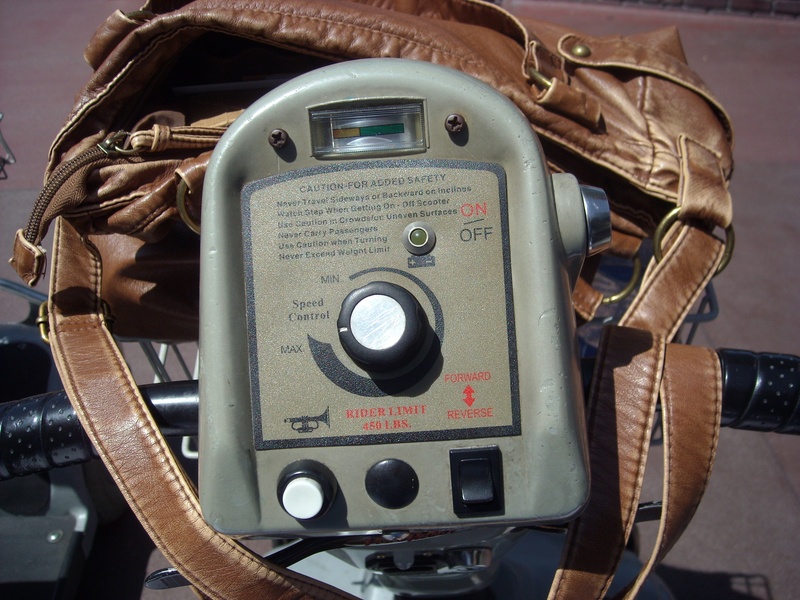 It was a lovely, lovely day. Lunch, (really brunch) first, at the Blue Bayou, where we decided to concentrate on just a few rides, taking our time. Tom Sawyer's Island, then Pirates, Star Tours – as many times as we could get on it – now that the flight choices are random after take-off, I understand you could spend a day there and never get the same ride twice.
Checking the program, we wandered over to the Royal Theatre and our day opened up. It was between shows and we got to talking with Stan, a costumed cast member-host. When he learned it was my birthday, he searched out and found a birthday badge, felt-tip-penned my name, and a Mickey balloon on it, and I was suddenly a Personage.
Happiest Place on Earth, for sure. For the rest of the day, everyone who spotted the badge wished me a Happy Birthday. It was a constantly surprising experience. Outside Tomorrowland, I met a seven-year-old birthday girl and, when we stopped for a pick-me-up at the Plaza Café, there was a gal in her early twenties with the badge. A waiter pulled out a harmonica and encouraged everyone to sing "Happy Birthday," to us.
As it worked out, the submarine ride, now "Finding Nemo" was being refurbished, so we'll have to wait for another time.
The park wasn't as crowded (Thank You, Lord, most sincerely) as it is on holidays, but there were still lines – Roger Rabbit was really the most annoying. I swear, it would be possible for someone to get a first kiss, married, pregnant, and deliver twins in that dark alley before sighting a glimpse of, much less get onto, the actual ride.
David thought I'd hate him, but he wanted to do "Small World," to see it without all the Christmas décor. I dragged him through Storybook Land because I haven't seen it, in daylight, in years. We meant to go back, after dark, but after dark comes late, this time of year, and, at dinner, we decided to stay put, because the porch and patio of the Plaza Inn can be the best place to see the fireworks.
Somewhere in there, we saw the show at the Fantasyland Theatre. . .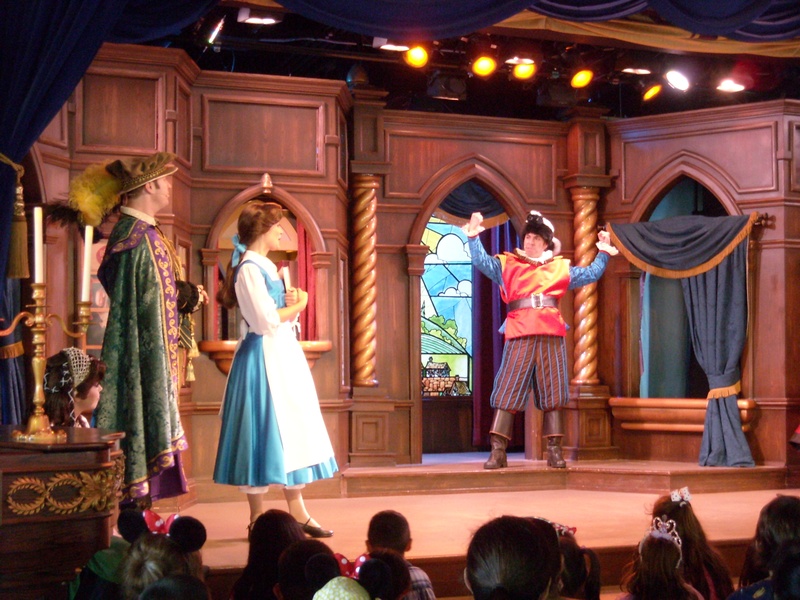 Gaston flashes his assets
. . . and visited Mr. Lincoln, and – after another loooong wait, a second Star Tours trek, this time, instead of Yoda telling us we had to get the rebel spy on board to safety, Princess Leia begged for help – which was a good thing, because, the first time, when Yoda pointed out the spy to be protected, that little walking stick popped right out, in 3D, aimed at ME.
We closed the place. As I waited for David to complete the paperwork for returning the motorized cart, the sound system began playing "Davy Crockett."
I slept all the way home, then slept until noonish.
The Happy Couple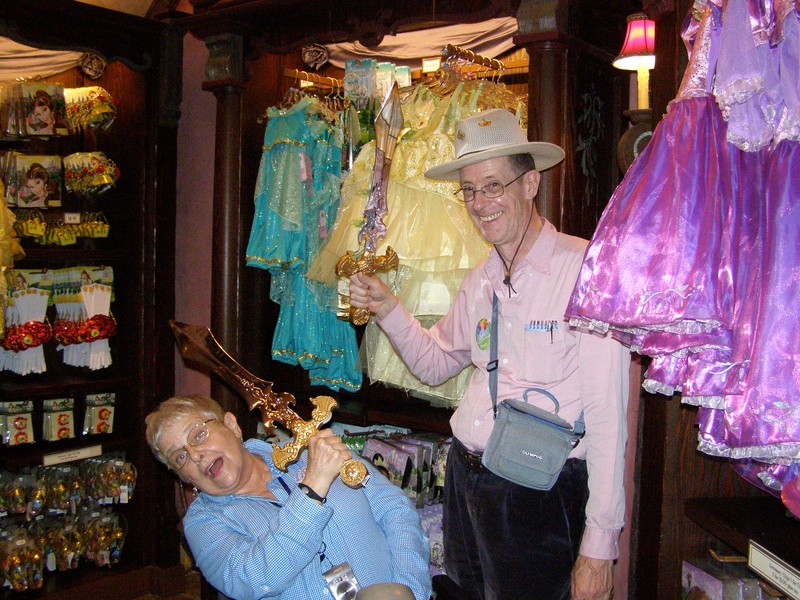 Best day in the Park. Ever.