Since November, when there was a serious glitch in the printing process, my adventures with DRAGON SOLSTICE have been beyond annoying. Only the Kindle version has been available since that time - which meant, of course, that Christmas sales of print copies flew out the window into Neverland faster than Peter Pan with Nana on his heels.
How in the world a cover that looks just fine on the CreateSpace proof page can be bollixed so far beyond rational explanation is a wonder that is still being investigated.
A word about preparing the cover illustration for printing. It is a "reproduction" of the stained glass window in the castle chapel (an interpretation of St. Bobb's legendary moment of triumph) that Sarai remembers, and compares to the young creature perched like a startled squirrel at the opposite end of the log where she is sitting. The original painting has a thin, black border.  
Now, we all know (or will hereafter) that, including overlaying the title on the illustration, I did the whole formatting thing by myself, alone, stumbling through the trial-and-error process with the Chicago Manual of Style at my elbow, three months of the least holy kind of hell, in order to produce the most professional and pleasing book possible. It may have made me a mad woman.
I jumped through each of CreateSpace's hoops. Warned by the instructions that I must be aware that the cover was subject to trim, I kept the printed matter one-half inch away from the edges and widened the black border to one-quarter inch all around, just to be on the safe side.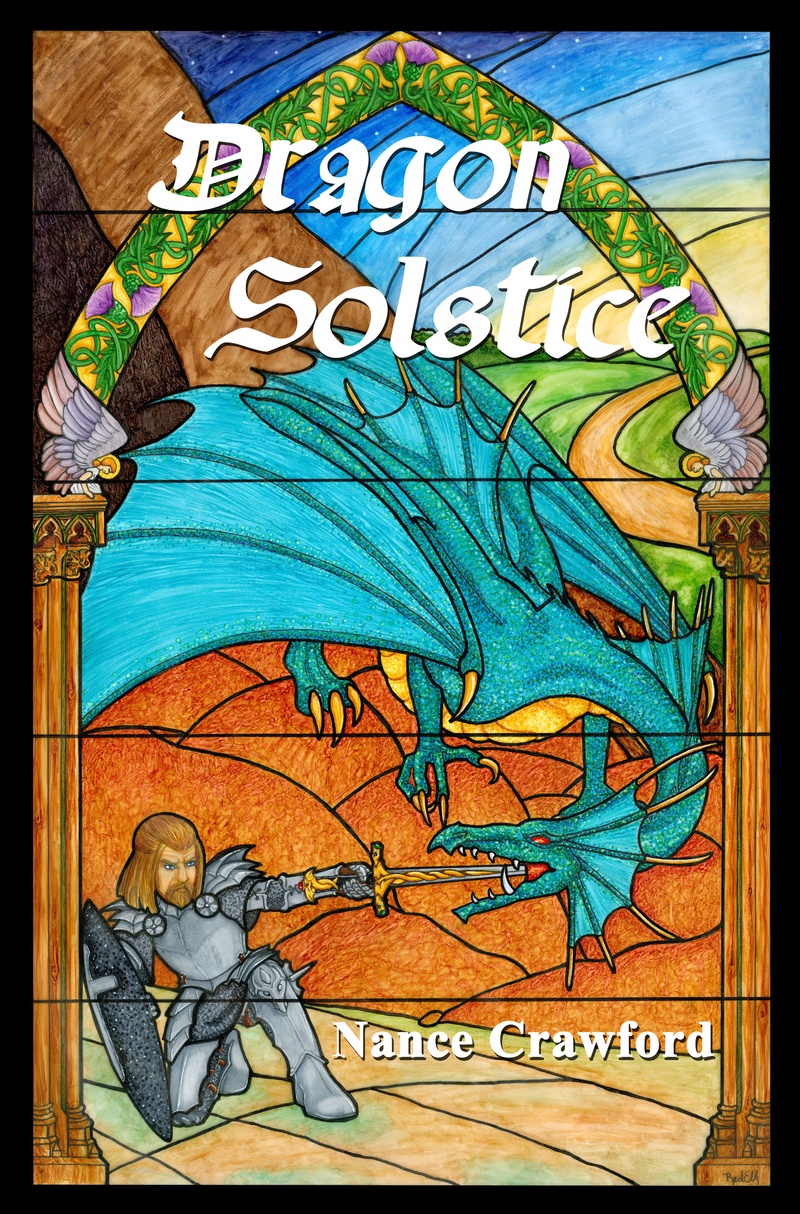 Nevertheless, it took several proof copies to finally correct chopped-off Thistle heads at the apex of the arch, and mutilated angel wings at the sides, not to mention the disappearance of the artist signature at the bottom. After an initial print run generated from a tainted master file (I've got eleven hand-corrected copies, numbered and signed, which may someday be considered collectables), two years ago DRAGON SOLSTICE went out into the big world.

When it was first released, right away: three unsolicited Five Star reviews on Amazon. Wow.  And, in the first month, some enterprising person offered to sell a copy for $187.00). Another Five Star review, last year. I know screaming success begins to happen after well over one hundred Four & Five star reviews, but I'm happy anyone has paid attention, at all.
I can't afford a publicist, so it all rests on word-of-mouth and book signings (which don't make brownie points with Amazon, because direct sales to authors don't count – only what Amazon sells direct). I haven't been too concerned, because it's a holiday-themed story, and can only be marketed late in the year, so dribbles and drabs make sense, right now.
Last Christmas, however, I got shot in the foot – and I don't think I have myself to blame.
As many times as it took to get it right for the initial run in 2010, it should not have been a problem at all, this time, even if one-quarter of an inch was added to the size of the book - and the cover matter was resized to allow for the change. There was enough time to order copies for the sale.

In preparing for our California Writers Club-San Fernando Valley Branch Holiday Book Fair on December 7th (that should have been a heads-up, right there!), I realized that DRAGON SOLSTICE and DREAMS AND PORTENTS were not the same size. Although I was sure I had specified the same size on the CreateSpace template for both books, DREAMS was one-quarter inch wider than DRAGON. So, I called CreateSpace and was assured it was no problem, all I had to do was submit the correct size for the cover, and I would receive a proof copy within a few days.

Dream on. I had managed to forget about the first time around. This time, upon arrival on November 22nd (another day of infamy), the cover proved to have no black border at the spine edge, just a thin black line. It was also printed crookedly, allowing a portion of the blue on the back cover to bleed, at an angle, onto the front cover at the top: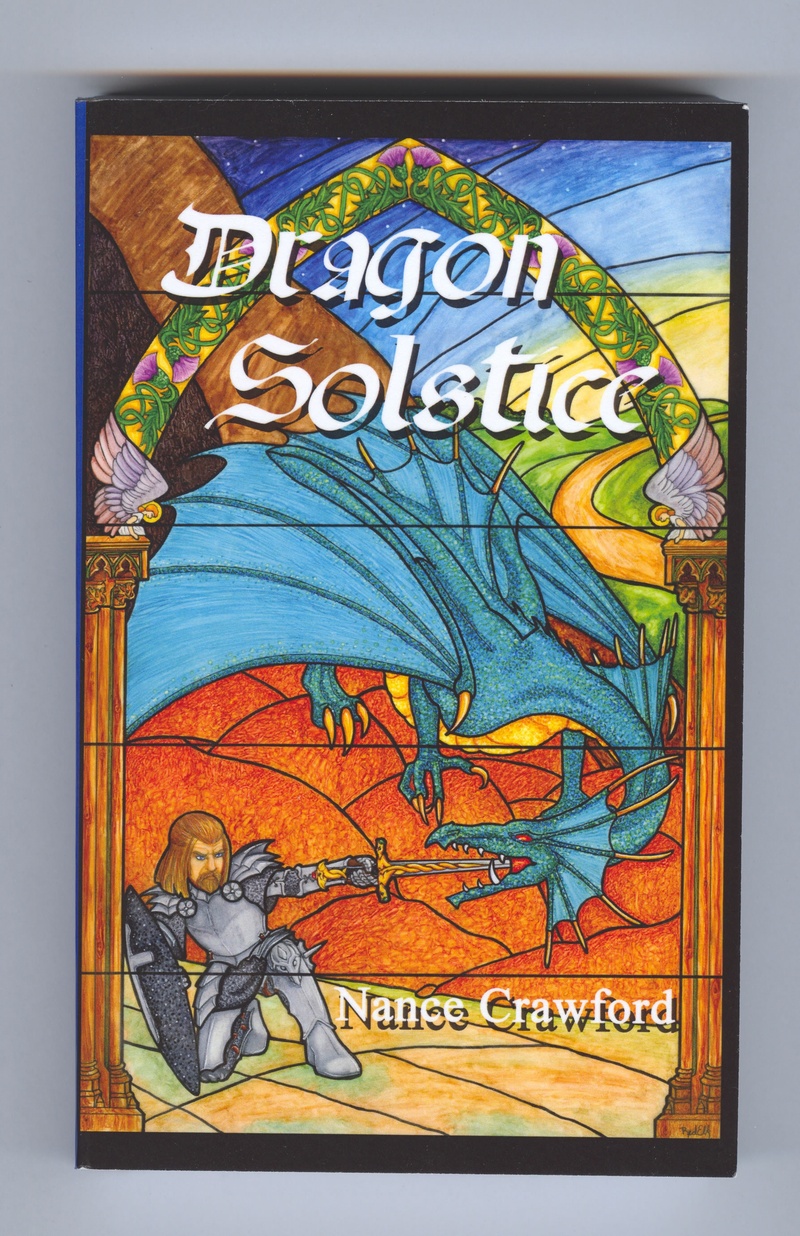 I called. The second proof (Thanksgiving weekend having gone by, finally arrived on December 5th, but for which I did not have to pay, thank you) had border only at the spine - not to mention effective loss of the point at the top of the arch (trimmed Thistles), and deep, glaring color saturation: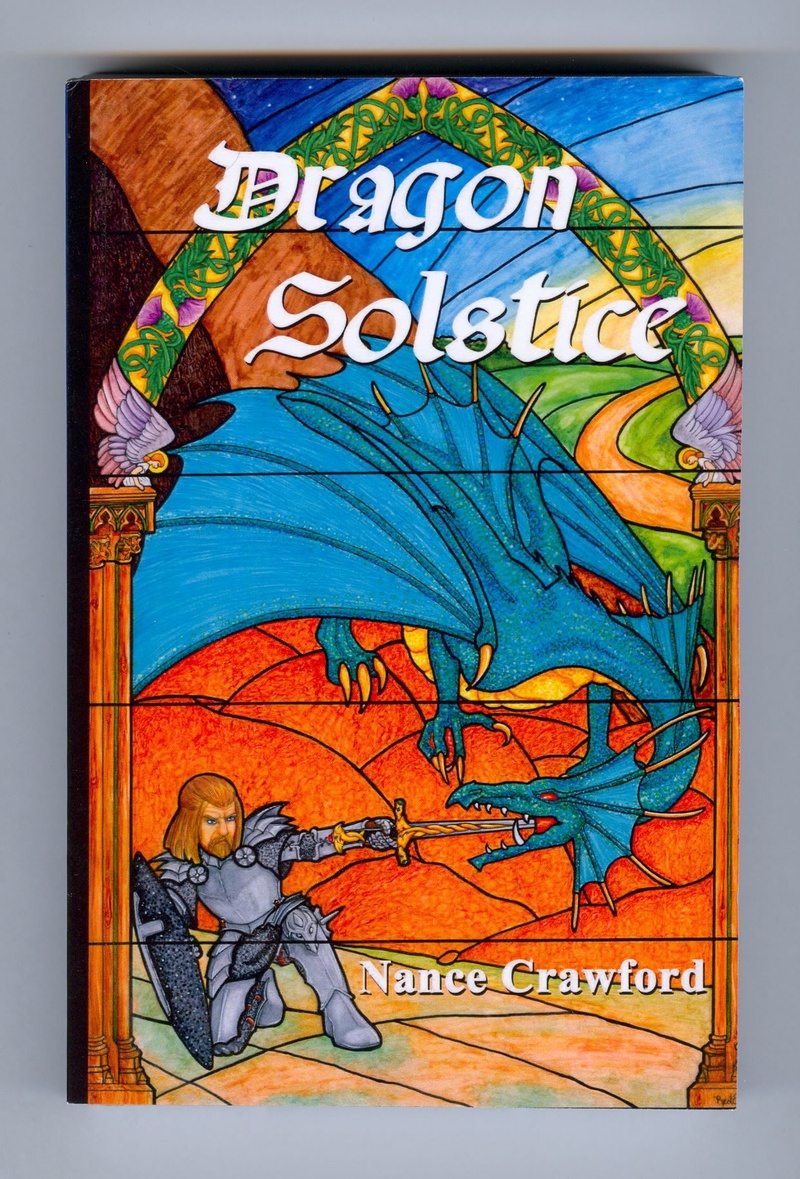 End of Christmas orders. Anytime a manuscript is being updated, it is pulled from the Amazon catalogue – even though, in this case, I was assured that would not happen.  
I finally connected with a Customer Service Representative who really cares and who has been doing his best to help. He hasn't been able, yet, to figure out what's going on, either. This is the copy that arrived on December 20, 2013: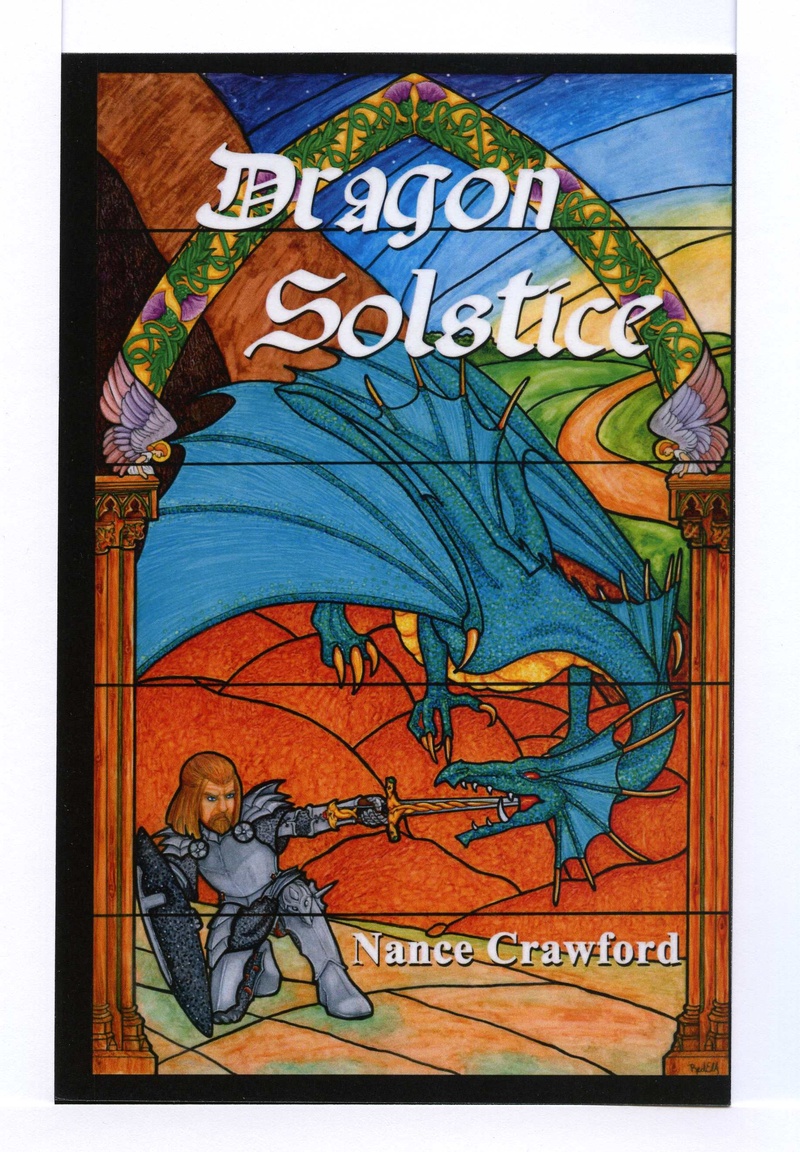 At least we're up to three borders. I don't care if they're not equidistant from the edge -I just want four of them back.

It's beyond frustration, it's just sad. From audience at workshops, I know I wrote a good musical - www.ChristmasDragon.net - but, apparently, no one wants to take a chance on a show that can only run six weeks a year – even if those six weeks keep coming back until the end of eternity - Okay. (I still believe that someday, somewhere, someone will come forward to help finance a concept CD, and that will be the beginning. Ashley Noel has everything needed to make him an entire generation's "Rudolph." What child doesn't want to know how Santa got his pocket alarm?)
So I put it aside – until the all the other characters in the story kept scrambling to get out of my noggin and onto paper, as a book: DRAGON SOLSTI CE.
And, suddenly, there was CreateSpace, and I could do it myself.
Yeah, right.
Mr. Bezos, update the equipment and open a second plant on the West Coast, where there's more than one person who understands the mandate to help dreams come true.