Sunday, March 15, 2015
3:30 p.m. PDT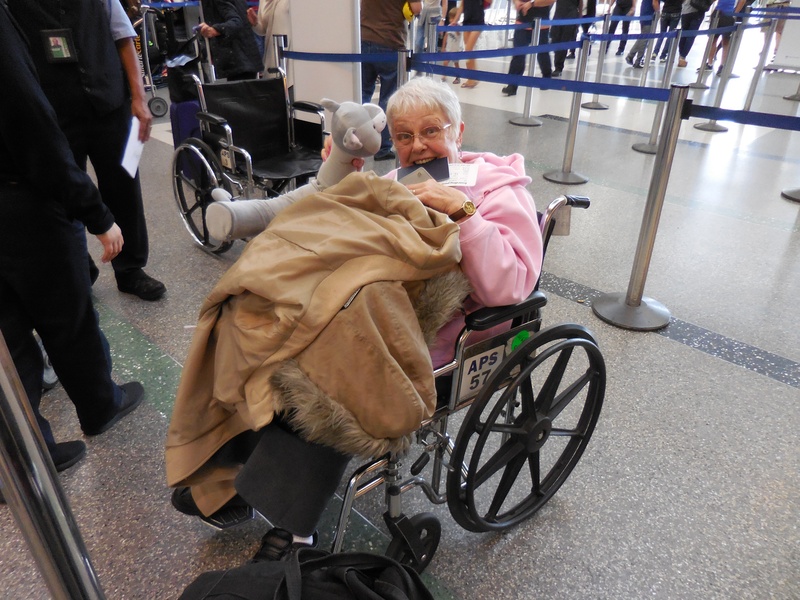 Here I am at LAX, having been treated like the queen. After a delay caused by someone not checking the waiting area thoroughly (and not calling my name), I was briskly wheeled to a tram stop for the final jaunt to the plane. After what was promised to be a short wait (I was apparently forgotten for an hour), somebody realized the flight had been completely boarded and I was missing.
Another tram ride on the order of Mr. Toad's Wild Ride (including tram in elevator) and another Indie 500 wheelchair to the boarding ramp, where all kinds of handsomely suited gentlemen with brilliantly colorful neckties (none of them the Captain, but all looking the part) and I was escorted through first class (curious stares), Economy Premium (fewer stairs) and to seat 44, on the aisle, near the loo.
The rest is silence because I wish to be remembered as inordinately brave (since there was no one to whine to, it was the better choice). I sort of slept through three movies. A gentle landing at Heathrow, followed by a patient wait as the other passengers disembarked, and I was met at the door by a less aggressive wheelchair driver.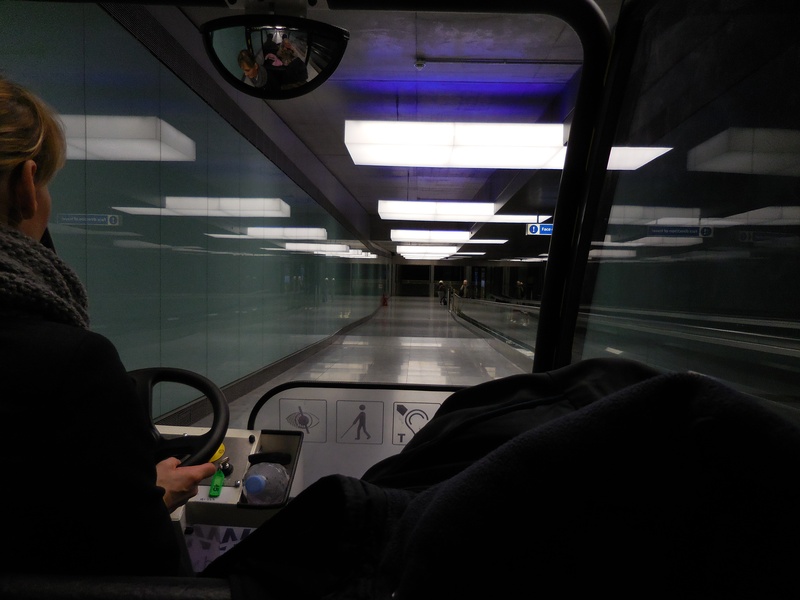 Heathrow is a blooming big place. Miles, I would guess, between me and my goal: Jane and Lara at the Arrivals gate.
At that point, I realized that I had brought neither their phone numbers nor their address.
With this shocking moment came the realization that, if they had not got to the airport (were stuck in traffic, dead on the highway, or otherwise mis-engaged) I was flat s**t out of luck. Since my brain seemed to be working at even less capacity than usual, I began to mull over the possibilities which might ensue.
We turned the corner, I scanned the crowd of well-dressed gentlemen holding up hand-printed name cards, and there, Lo! Saw the familiar face.
Being the perfect American Tourist in a wheelchair, I raised my hand in desperation, waved madly, and shouted, "Jane! Jane!"
She saw me and grinned and came toward the entrance to greet me.
i was warmly greeted (I do not take pictures while being hugged) and taken for a nice cup of coffee in the airport at Cafe Nero.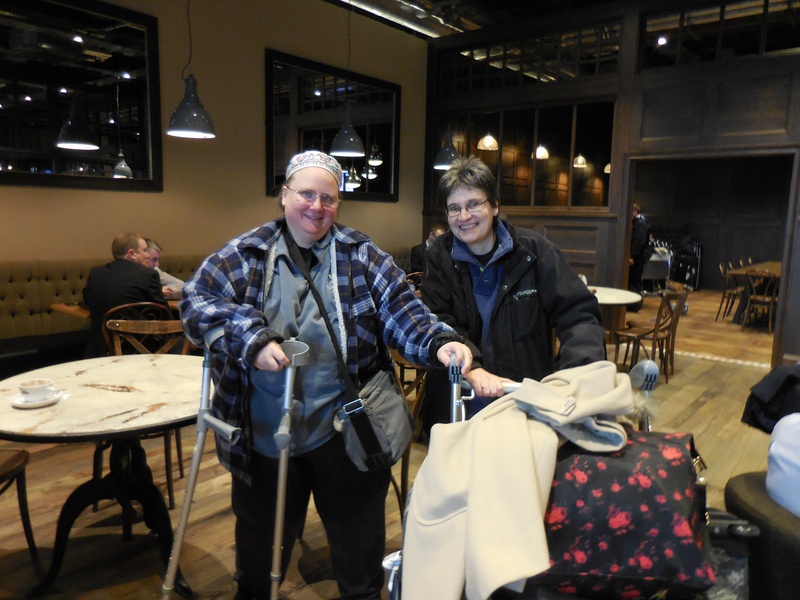 After coffee.
(Lara, L, and Jane, R)

The rest is too complicated, but I did get a phone -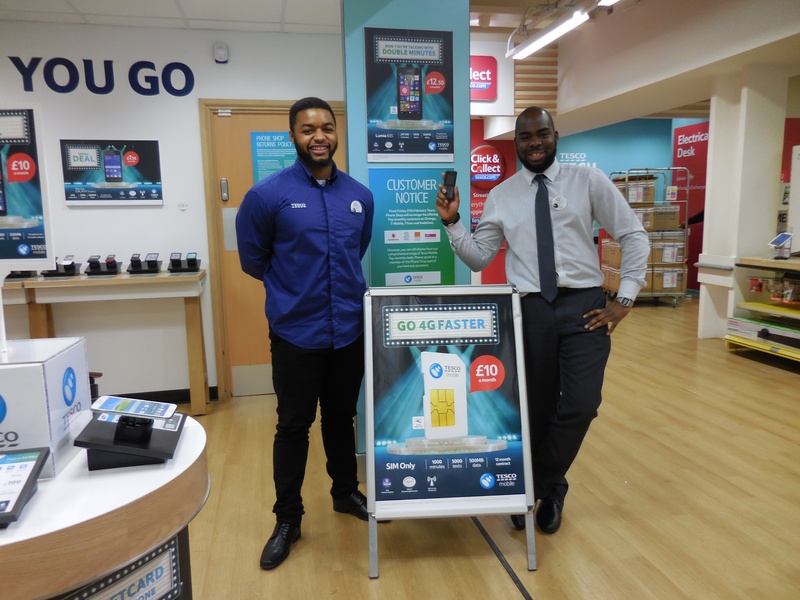 Phone Salesmen Patrick (L) and Joey (R - who was our actual salesman, and put the sim car in )
Patrick was so sweet and we had such a delightful conversation with him about his upcoming visit to counsins in America, I asked him to be in the picture, too.
  - and then we were on the way to their house, my home until Friday.
 Wednesday, March 18, 2015
11:47 p.m. GMT
I'm in London and it's taken two days to get properly awake. Yesterday, Lara and Jane Hart drove me on what amounted to an architectural tour of south London – Wadsworth to St. Mary Margaret Church cemetery with its memorial to the Huguenots who fled French persecution (although what they're doing buried in a Roman Catholic graveyard has not be fully explained, yet - but it's a great guessing game, so far), then on to Brixton for the view to the East end (more on that later because there wasn't one; Lara was right) – then on to Windrush Square, which is the name of the first boat that brought the major wave of West Indian immigration in the early 1950s. A lovely pocket park.
I was introduced to Argos, a catalogue store – just pick your item from the catalog, pay at the kiosk – or, if your new pinned debit doesn't work in the machine (guess whose?) take it to the counter and give it to the lady. She will happily and effectively swipe it through, gladly receiving your money while softening the blow with charmingly endearing "Luvs," and "Dears," and "Darlin's." Then it was off to Sainsbury's for groceries and home for more of Lara's delicious dinners (prawn linguini and salad), then catching up with 157 emails, too many hours trying to reach David, a hilarious Skyping with Patti and off, too late, to bed.
The only downside since my arrival has been being unable to reach David through the int'l phone I bought at Tesco immediately after arriving. More on that later, as I've got to sign off – Lara's waiting.
Will catch up with the tour of the B.M. (British Museum, poppets) tomorrow, because I am just reminded that I have to pay to get into the Tower and want to get every penny of my pounds' worth, which means I should probably be awake during the experience.
I love Barry Humphries and every salesperson who has taken my money. What a town!
11:40 p.m. Wednesday, March 18, 2015