Taking a little time away from KING'S GAMES to record DRAGON SOLSTICE. Deja vu.
First time was right after I wrote it - sat in the upstairs hall in the rented townhouse talking into a boom box cassette recorder - for a Christmas gift for family members. Lots of loud clicks where I stopped & started for corrections. I know, for sure, that at least one person listened to it. Thank you, Patti.

Second time was a couple of years ago, in more favorable circumstances, in the back room here, one of my quilts hung over a shoji screen behind me, for a baffle, in front of a better mike and David turning the dials in the next room - for podcast format, when the book went on sale on Amazon (the Podcast is still active, until the recorded book goes on sale). People have been finding it, but it really doesn't meet industry standards so, once more into the booth!

The second-time-around experience inspired David to start recording the public domain Tarzan books (and other Edgar Rice Burroughs – the joy of his youth!), and he found a new career.

He put a real sound booth together in the back room . . .

 Pay close attention to the man behind the shojis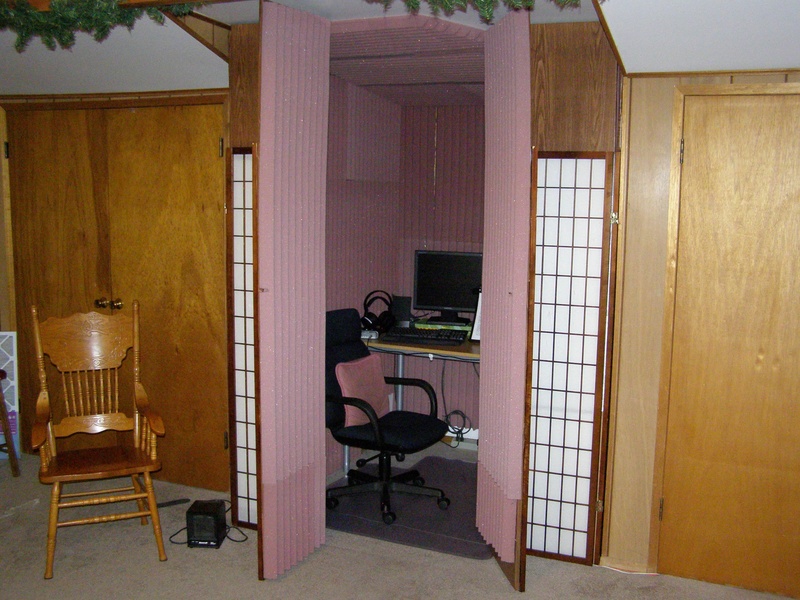 Break time!

. . . and, two years later, he's recorded 35+ books . . .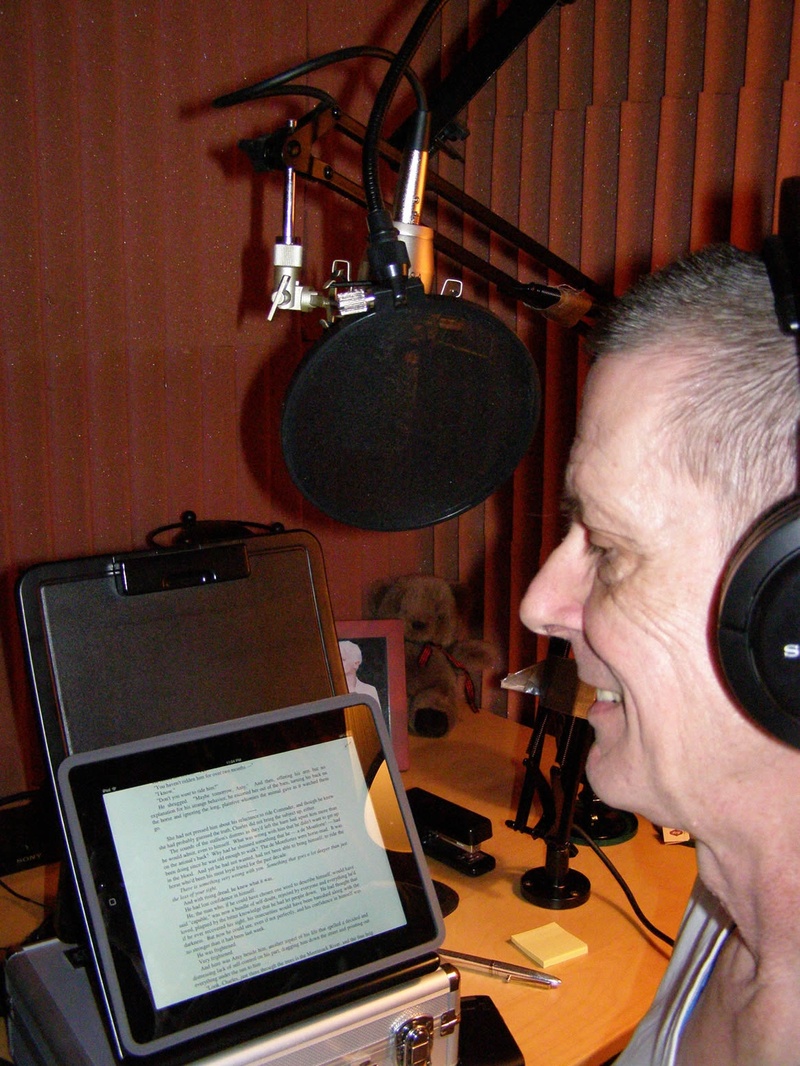 . . . that are selling like hotcakes on Audible.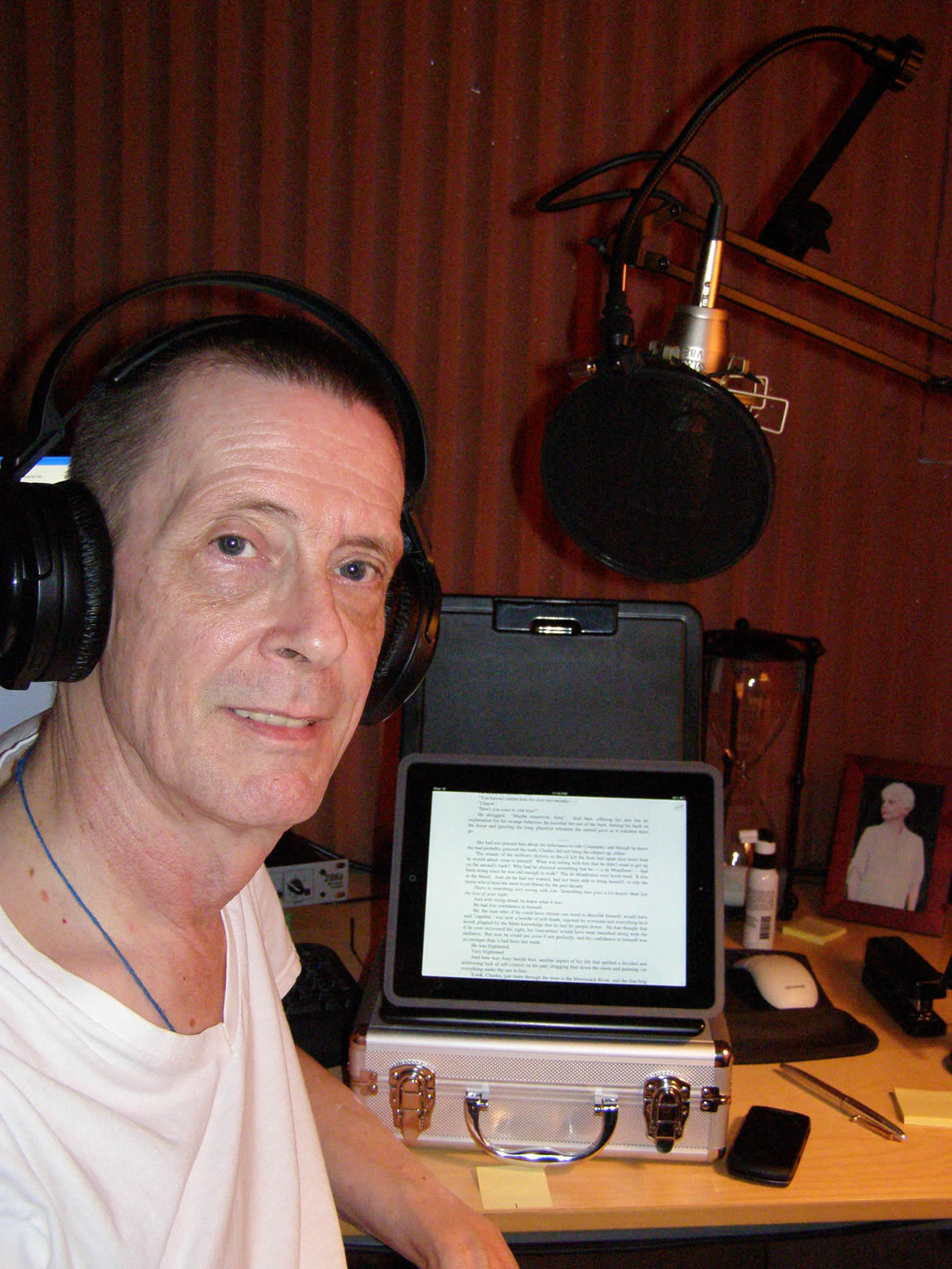 He's really good at it. (And he keeps his lady love in the booth with him, where she's forever young, bless him!)

So my third time around with Ashley Noel and Sarai is happening in the real booth, when David isn't using it. I am being taught to be professional.
These days, most readers work in their homes, and do the editing themselves. A home studio can be very idiosyncratic. It can't be completely isolated unless it's built as a room within a room – and that is not going to happen in the hottest end of the San Fernando Valley until a lot more books are in the pipeline – which means that the next door neighbor's gardener's gas blower can really ruin the day.
Really an experience. I did not know frustration until I was in the middle of a sentence and the (ubiquitous) LAPD helicopter showed up – in and out, in and out – for what seemed like forever. Can't hear the doorbell when I'm in the booth, can't hear a catfight in the living room – but let any kind of a motor vehicle (including, I swear, sometimes on the freeway, five miles away) go past, and it's retake time.
With the wind at my back (but not pounding tree limbs against the building), the Good Lord willin' and the creek not rising (I'm ahead, there – we're in a drought), there will be books and an ebook and a record (more on that, later) available for the upcoming holiday season!
If you're curious about it now, the podcast is free. The professionally recorded book won't be. My favorite chapters are Three and Four. A real gold mine for an unabashed ham.
Gotta go. Richard, Lovell, Stillington, Cecily, and all, are undoubtedly feeling neglected.