June 14 - As I'm updating the site, I checked  back and realized that this entry did not include the very pertinent information that, months before the event, when we picked the date for my first Book Signing, we had no idea that it would be in direct conflict with the first day of the Los Angeles Times Festival of Books. Ooops.

****************************************************************************************************

Late Saturday - Sunday a.m., April 21 - 22

It's late (I don't care what the time stamp may indicate - it's already 12:15 tomorrow - Sunday, 4/22 - right now) and I just finished answering Patti's email from England asking for details and downloading pictures from the camera (where I found the WonderCon photos - I gotta find time to start creating albums, here).
I hope you will excuse my exhaustedness as I share the letter to my daughter instead of inventing even more deathless prose. NOTE: FYI, Cheyenne is daughter Shawna's daughter; Mahala is my now-retired former Stage Manager but continuing companion in mischief. So, here goes:
********************************

A Letter to Patti, somewhere beyond Wimbleton:
Dear Pats,
What an odd (but very fun) day.  (Insert photo of library lobby & poster here, when the Site Host decides to work at a faster pace - it's now 12:45 a.m. and they are keeping me waiting for 4 - 5 minutes at a time as they attempt to respond to my fingers' commands.)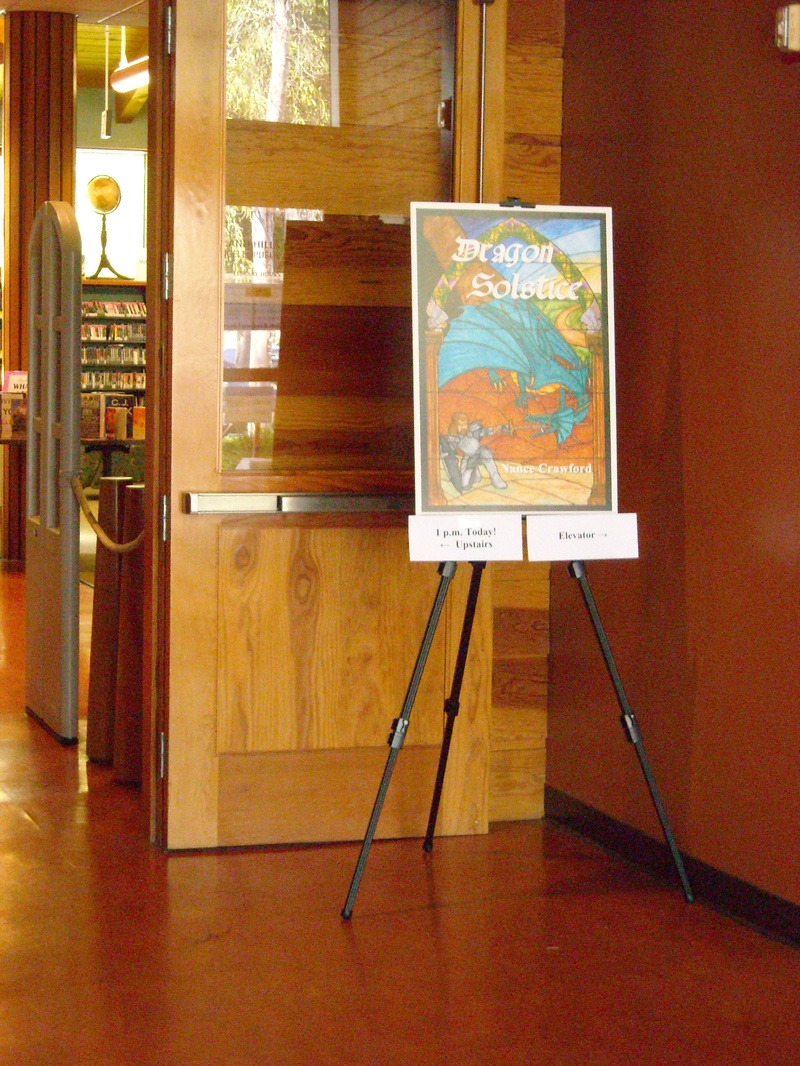 It was odd because, if the (maybe) 8 people who showed up had arrived all at once, the front row would have been almost crowded.
On time were Megan W. and Mahala. The rest dribbled in over the two hours - a couple of women alone and a couple of women with a kid or two in tow. A woman arrived with her little boy and he wanted the book - but we weren't prepared to charge a debit card and she didn't have cash or a checkbook with her and they had to pick their dog up from the vet - so we put a book aside for him because she said she'd be back in an hour for it.
Obviously, there was not a presentation, because it was me and Shawna seated at one table with the (now repaired) Ashley Noel maquette in the center . . . (insert photo of Ashley Noel maquette here, as in [ditto] above),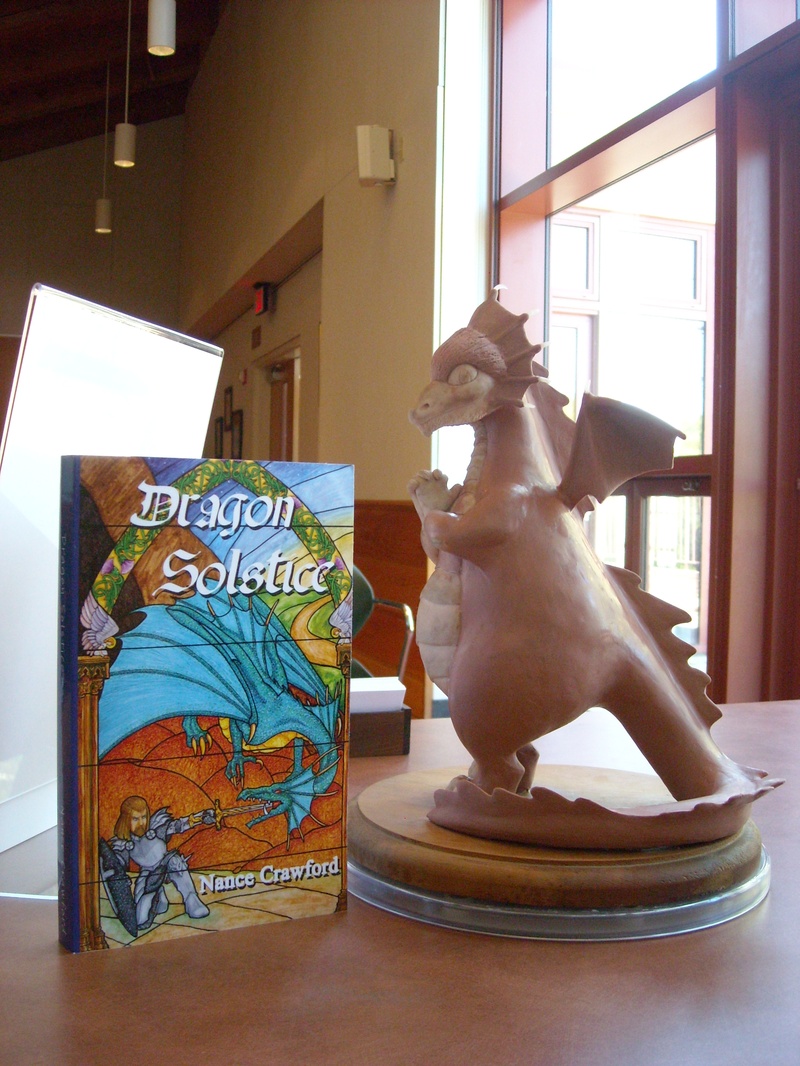 "It's all about me!"

. . .and Cheyenne at a second table to our left, overseeing the books waiting to be sold. There was a podium between the two tables, behind which I set my music stool, so I wouldn't have to stand as I read and/or generally attempted to entertain the crowd (which I didn't, because Megan and Mahala know me, already, and we all would have been bored by my shtick).
(Insert photo of Illustrator and Author working Book Signing event. See ditto, above)
We signed two books. Well, I signed one-and-a half.
Mahala brought along her already me-signed copy for Shawna to add her John Hancock; Mahala also purchased a book on behalf of a friend who couldn't be there and both of us signed it. (I have no idea who "Deb" is but she is now seared into my memory as the very saintliest Thursday Night Bowler on Mahala's team).
A couple of times, Diana, the librarian, came upstairs to stick her head past the door - and expressed her apologies for the obviously sparse crowd (Megan and Mahala seated at opposite ends of the front row).

(Insert no photo of completely empty room containing about forty empty chairs, with plenty of space remaining for a small Fiat.)

I told her it was all right. 
And it was. In-between the appearances of those brave total strangers, the 5 of us - and then the 4 of us (Megan had to leave at 2) generally yucked it up and had a good old time, laughing and carrying on like the family we are. Come to think of it, Diana the librarian should probably be grateful that you were in England - adding one more of my laughing female relatives into the mix would have undoubtedly cleared the reading room downstairs and resulted in a panicked call to LAPD SWAT.
David wandered in at about 2:45. We hung out a few minutes more, for the lady and the little boy, who didn't show up. (Maybe they're still sitting in the waiting room at the vet's; that's happened to me more than once.) At 3 p.m., we started wrapping up.
Schlepping everything down to the lobby, we were about to break down the poster and easel when a young woman came in the main door with her 2 little girls. This was the lady I had given my card to, as I was leaving the AMC at the mall, yesterday (gads, I've become quite relentless). She apologized for arriving so late. I offered to pull a book for her (the suitcase was already in the car) but she declined. I did tell her that DRAGON SOLSTICE will be available for checkout at the Woodland Hills library branch. She thanked me and went on her way.  
While David finished loading the car, I stopped in at the reference desk to thank Diana and to assure her that I was fine with the day.
The nice thing is that, a couple of days ago, Diana said she would send a copy to the purchasing person at the main branch, downtown, recommending they order and put it into the system. No guarantees they will do it - they have so many books coming in - but it would be grand to find it in the L.A. Library catalogue. I can't imagine a nicer fate for this book than infiltrating lending libraries. And libraries order books for patrons who request them. At least, they do in Los Angeles.

So we went to Denny's and had early dinner and emptied that room with our laughter, too.
Hope you've re-discovered your sleep cycle.
Love you, miss you!
Mom
********************************
NOTE: I am going to go ahead and publish this now but will have to return tomorrow (TODAY!)  - or when the host's server is actually responding reasonably - it has taken an hour to produce what should have taken fifteen minutes.
Sunday, 3:15 PM
Those who know me well will understand as I sigh.
I shut down the computer, last night, at 1:10 a.m. The cursor had vanished from the page, by that time, and I was typing completely blind.
This is my 29th Blog entry.
Cheers!
XO