Facebook reminded me last Wednesday that it's been a year.
Dealing with this web site became so frustrating that I've been sharing me on Facebook, instead of paying attention to these pages. No point in going through the litany of experiences. Instead, I've pretty much decided that, if I can't let the people who have signed on here as Members know when there's an update without jumping though hoops I haven't time for, I'm just going to reconcile letting that part of it go. I've been seeing messages but it's difficult to respond from here.
It's going to take time to update. Hope you'll come by and check, once in a while. When I have an updated computer that handles Chrome, (the rules change a lot, without warning, on this server) I'll start dealing with hoping to get more folks to sign on.
Meanwhile this is what woke me up (I've added a title)
Protesting the Pipeline in Los Angeles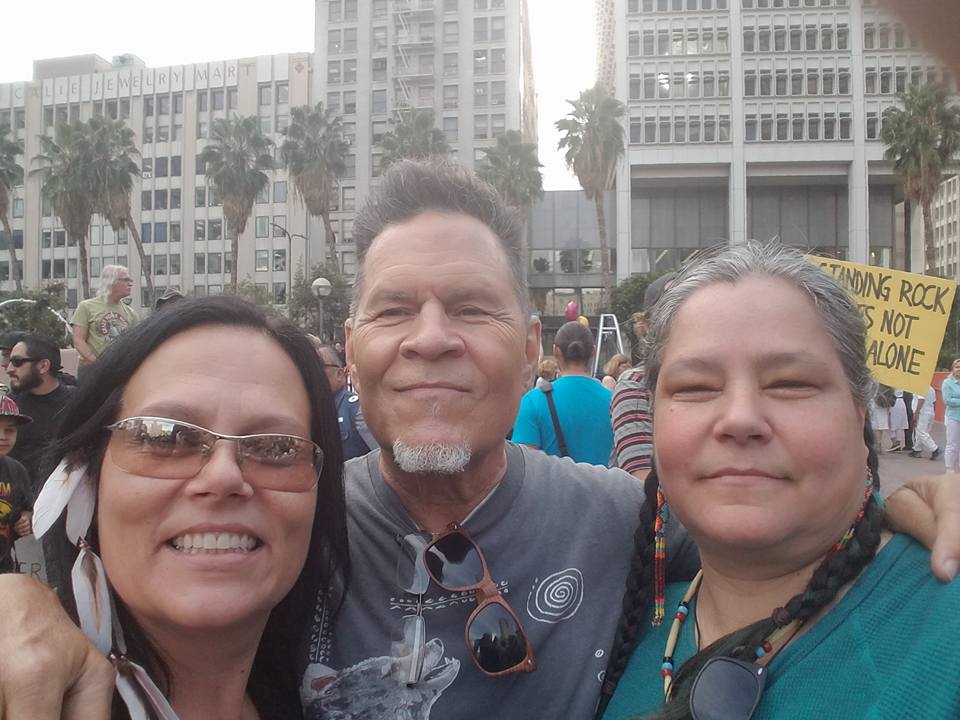 Kathie Henry                                     A Martinez                                    Shawna Hogan-Moore

Serious occasion, but this photo still tickles me: Our two youngest girls with A Martinez, one of the most gifted actors of his generation. I'm certain neither of them knew, or knows now, that I'm a huge fan/admirer of his work. If you doubt my assessment, binge LONGMIRE on Netflix, Amazon, or wherever you can find it.
Bummer is, you'll have to wait until November (was supposed to be September) for the final season - which is an even bigger bummer.
 
Brilliant show, all around - except when it jumped from A&E to cable, and some dummkopf cheated us by turning a brilliant cliff-hanger (that should have been at least a two episode voyage of discovery) into a one-episode Saturday Matinee cop-out (Indie gets himself on top of a submarine as it pulls away, CUT TO: Indie sneaks off the sub at the station. Pulleezz.)
The absolute downer, though, is that this is the final season. Arrrggghhh! Another satisfying, intelligent Western series ignominiously bites the dust.
Be that as it may, A Martinez has found himself the perfect Actor "Straight" Job: morning radio host on TAKE TWO. When he hasn't got a gig, he's in my kitchen teaching me about what's going on in California and the bigger world, with intelligent conversations about interesting things - like helping me understand sports (the man is an encyclopedia, Conor Henry) - so that I can have a halfway intelligent conversation with my chiropractor and/or my oldest grandson.
Have to admit, When TAKE TWO tracked me down in Leicester for an interview on the reburial of Richard III, the further blessing was that I was interviewed by the (then) co-host, Alex Cohen (Who's now hosting MORNING EDITION, the lead-in to TAKE TWO). Terrific gal. Wonderful interview experience.
Not A Martinez.
A blessing. If it had been A, I would have stumbled over my own mouth and proved myself to be the bumbling formerly-blond doofus that at least one of my ex husbands probably still considers me to be.
Protests ignored, the pipeline was approved by the present administration in January of this year. It has since leaked and been repaired at least once.
On November 14, the day before the one year anniversary of the photo taken above, that same Keystone pipeline leaked some 210,000 gallons of crude oil into an agricultural field.
As of this writing, possible damage to the groundwater is yet to be assessed.